Located on a scenic 60-acre hobby farm in Green Valley, Ontario
Bray Heights Farm offers both day and overnight respite that includes educational and enriching activities to allow those with special needs to learn about life on a farm and the animals on it, as well as how the land around them helps and works; all while enjoying their time in and around nature in rural Ontario.
Bray Heights clients experience hands-on activities with the animals that can involve grooming and holding (depending on the animal's size, of course!). Nature walks, picnic lunches, and even gardening are offered seasonally, as well as evening campfire activities during the overnight sleep-away programs.   
One hour west from Pointe-Claire, Montreal, Quebec
One hour east from Ottawa, Ontario
A fun, engaging experience for Individuals 14+ with Special Needs
Day & Overnight Respite

Experience an enriching and unique program with individual attention available during the day and for overnight stays in tents focused on farm life, the animals that live here and the nature that surrounds it all.

Donkey Walking

Known for their therapeutic nature, donkeys are amazing creatures. After spending time gently walking the land with them, we know our clients will agree. 

Evening Campfire & Activities

Sleep overnight in tents, partake in campsite singing and telling stories, observing the stars, and listening for native wildlife as day turns to evening. Food and snacks (with consideration for dietary restrictions and allergies) are provided, but donations are always welcome.

Sensory Activities with Animals

With a variety of docile and friendly farm animals, clients will have the chance to interact, within their comfort level, with each. From chickens to both miniature donkeys and ponies, pigs, rabbits and even horses - all of which are rescue animals - every Bray Heights resident is welcoming and eager to get to know each and every visitor.

Explore the Countryside & Picnics

With 60 acres of lush, green countryside to explore, Bray Heights has something for everyone when it comes to nature walks. From open fields to woodland walks, there is much to explore and learn while walking the countryside - made better with a snack along the way! 

Bray Heights Bees

Bees are key to maintaining the growing ecosystem, and Bray Heights knows this! Not only do these hardworking little insects keep the land looking lush, but their honey is scrumptious, too! Something our visitors will soon find out when they meet our furry little workers.  

*Protective bee suits available.
Learn About Our Programs
Bray Heights offers a variety of programs to suit all client needs from all-day to overnight stays, there is something for everyone.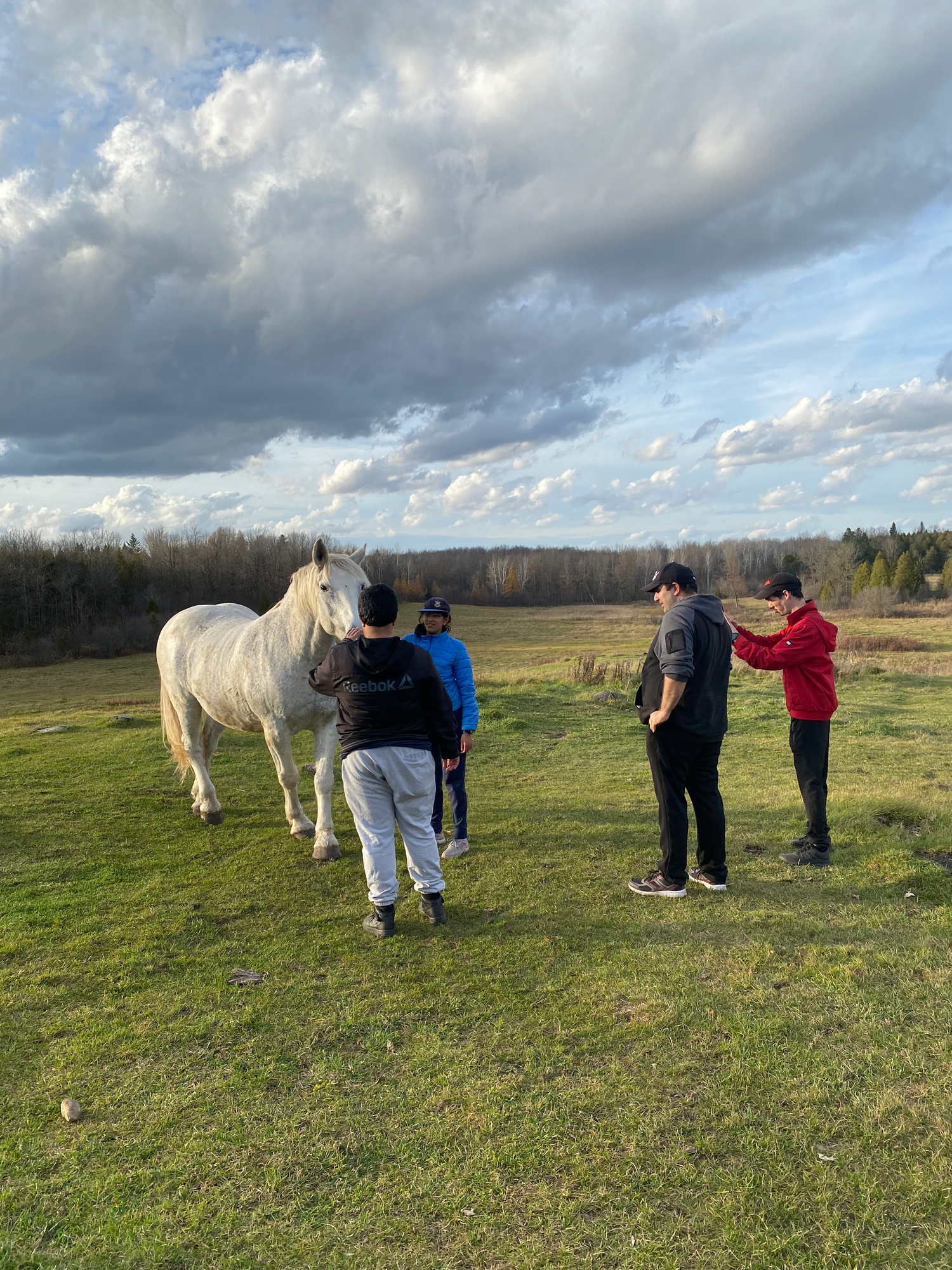 About Us
The founder and creator of Bray Heights Farm, retired Special Needs teacher Catherine J. Lightstone, was born and raised on a farm in Devon, England. Catherine's passion for both her students and her animals was apparent in her immediate decision to open Bray Heights Farm the moment she retired from teaching full-time.
Catherine, along with her husband Stephen, chose to combine her two greatest loves: working with those with special needs and rescue animals into a gentle program to enrich both in a unique, individualized experience located on a picturesque 60-acre farm.
By reservation only. Let's chat and arrange your farm visit!
20015 County Road 25
Green Valley, ON K0C 1L0
613-525-4997 | 514-898-0491

brayheights@gmail.com